Having a passive income is probably a life that everyone has been dreaming of, but only a few managed to make it come true. There are many options to make passive income, one of the best is by doing affiliate marketing.
It's a marketing model that can now be performed on many platforms, such as YouTube, Instagram, and blogs. Let's take a look at earnings estimates for doing affiliate marketing from three different sources.
PayScale: The average passive income from affiliate marketing is $51,217 annually. The bottom 10% earn $37,000 and the top 10% earn $71,000.
Glassdoor: The average passive income from affiliate marketing is $65,800 annually. Ranging from $42,000 to $83,000.
ZipRecruiter: The average passive income from affiliate marketing is $154,700 annually and $12,892 monthly.
Big enough? You can even earn more than that. Let's take a more in-depth look at affiliate marketing in 2022: What is it about and how beginners can start.
What is Affiliate Marketing?
In a nutshell, affiliate marketing refers to a business model where a party promotes others' products or services in return for a commission for every lead and sale they make.
You probably have found YouTubers or bloggers insert affiliate links for products on their pages. Every time the links get clicked, they get a commission .aka a certain amount of money.
This model is similar to a salesperson. The "salesperson" nowadays is often influencers, YouTubers, and bloggers.
As affiliate marketing can be a promising passive income, more and more people have been making their way to be affiliate marketers. Are you one of them?
Types of Affiliate Marketing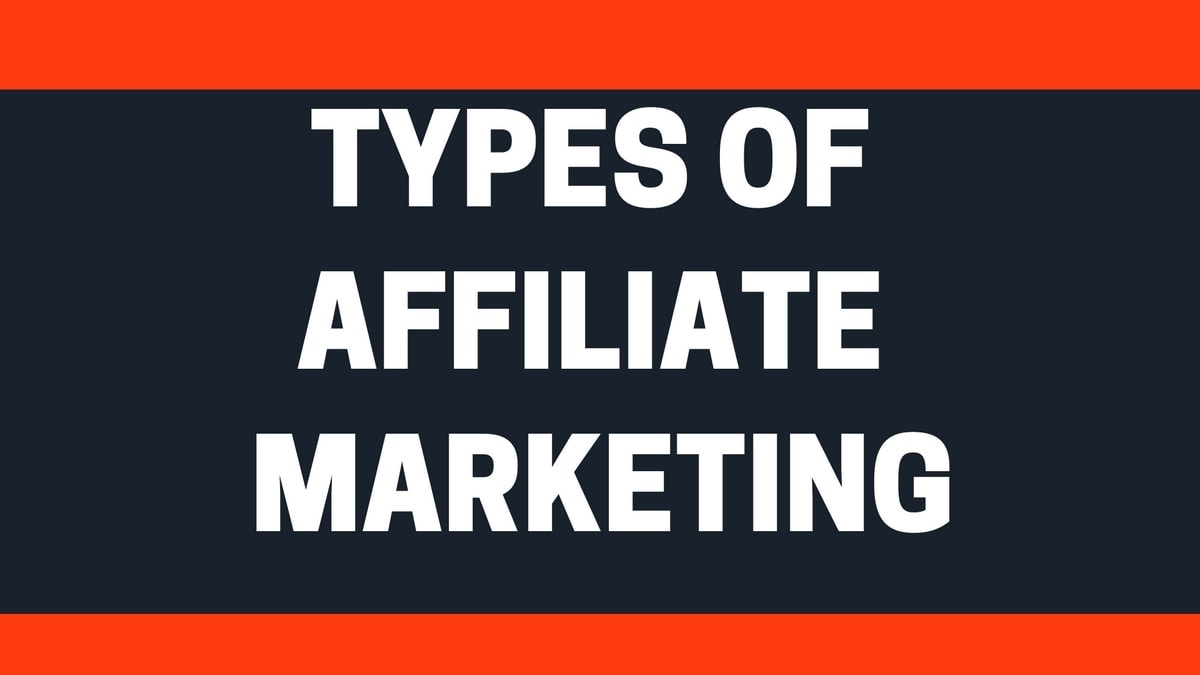 If you are interested to try, it's important to understand the basic know-how of affiliate marketing. Let's dive deeper into some types of affiliate marketing based on the relationship between marketers and the products they promote
1. Unattached Affiliate Marketing
This type of affiliate marketing has the least boundaries between marketers and the products. In other words, the marketer's niche is not related to the product they promote.
They have limited to zero knowledge about the product. Due to the lack of connection between the marketers and the products, unattached affiliate links can only work if they have a massive audience.
2. Related Affiliate Marketing
Different from the previous one, related affiliate marketing refers to a condition where a promoter has a related niche to the product they promote.
For example, a beauty guru put an affiliate link for makeup products on their YouTube description.
When the promoter and the product have the same niche, consumer trust will build up easier. This type of affiliate marketing has a higher chance to drive more people to click the link.
3. Involved Affiliate Marketing
Involved affiliate marketing has deeper relationships between marketers and products. Usually, they have tried the product before promoting it. Therefore, they have stories to build audiences' trust.
For example, a YouTuber who has tried a skincare product gives explanations and reviews to their viewers. Meanwhile, in the description box, you can find the affiliation link to the product.
How it Works
For a beginner, affiliate marketing can be a bit confusing since there are some parties included in the system.
There are three main roles in affiliate marketing, and each of them has a different job desk. Let's take a more in-depth look at each party for affiliate marketing.
1. The Creators/ Sellers/ Merchants:
These terms refer to the same party, which is the producer of a product. They can range from individual entrepreneurs to big companies. For example, Apple is the producer of iPhone, iMac, and iPad gadgets.
2. The Affiliate Marketers:
Affiliate marketers refer to the people who promote the products. In this case, they don't produce the goods, but just simply promote them to their audience.
Affiliate marketers can also be individuals (YouTubers/bloggers/influencers) or companies, whoever has a medium and audience.
3. The Affiliate Networks:
The merchants can't work alone. They need platforms to sell their products online. Some of the most-known affiliate networks are Amazon, ClickBank, Refersion, and eBay. Amazon Associates is by far the biggest and most used affiliate network.
4. Case sample:
Let's imagine you want to become an affiliate marketer. You sign up to the Amazon Associates affiliate programs and generate affiliate links to their products. Once you have your affiliate link, you put it on your platforms, it can be in the YouTube description box, blogs, or other social media where you have an audience.
Every click on your affiliate links returns a commission. The more people click on it, the higher your earnings. Some successful affiliate marketers have their affiliate links as a gold mine for money.
Affiliate Marketing Trends in 2022
As you develop more comprehension of affiliate marketing, let's find out what to anticipate in 2022. Here are some affiliate marketing trends that are expected to liven up in 2022.
#1. Live shopping
Live shopping is a breakthrough for purchasing goods online. It is a great option to get the products that you want within a click away, especially during the pandemic.
An affiliate marketer can promote products through their social media and provide affiliate links for their viewers to make a purchase.
This type of shopping trend is predicted to continue in the future years as major social media and e-commerce platforms implement live streaming options.
#2. Co-marketing partnerships
Some merchants realize that affiliate marketing is a promising strategy to boost their sales. That's why some of them directly contact affiliate marketers with similar niches to their products to develop partnerships.
Choosing marketers with a similar niche will bring great exposure to the products and build the audience's trust easily and effectively. Furthermore, in terms of the commission, it's always an open talk between merchants and marketers.
#3. Loyalty marketing
This type of marketing is applied by merchants to bind their buyers. It encourages shoppers to keep purchasing their products by giving several advantages, such as cashback, discount coupons, free shipping, or shopping points.
Affiliate marketers can promote the advantages offered by the merchants to their audiences. They will develop a deeper relationship with their audience that can lead to higher engagement and conversion using affiliate links. In the end, it is a win-win game for all parties involved, including the buyers.
#4. Micro and nano influencers
Micro and nano influencers have a strong impact to drive sales, but who are they? Well, you may already know whom the term influencer refers to. Now, let's get to know deeper about them.
The difference between micro and nano influencers relies on the number of their followers. Micro-influencers refer to those who have between 10,000 to 100,000 followers. They have the fame but have not yet reached the celebrity level.
Whereas Nano influencers refer to those with a lesser audience ranging from 1,000 to 10,000 followers.
Even though they have fewer followers, nano influencers are known for their competencies and expertise in their field.
It's predicted that the popularity of micro and nano influencers will continue rising in the year 2022. Many producers will take advantage of them for having tons of audiences by offering partnerships.
#5. Implementation of Artificial Intelligence (AI)
As the world develops even more digitally, AI-based tools have been taking over almost all industry sectors. With its complex machine learning, AI tools offer great advantages for every brand, such as finding affiliate marketers that are suitable for certain campaigns or products.
Not stopping on that, AI-based tools can also help track and identify consumer behaviour, and target audience, optimize keywords and predict KPIs way more efficiently.
The superiorities of this digital breakthrough are expected to yield higher engagement and conversion for affiliate campaigns.
How Beginners Can Start
Now, if you want to take a real action to become an affiliate marketer, consider these simple steps below:
#1. Decide your niche
Before anything else, you have to know what will be your niche, the field that you're going to stick into. The best way to start is by identifying your hobby or passion. It will be better if you can be more specific about it.
For example, if you decide on beauty care as your niche, rather than covering skincare in general, you can come up with a more specific idea, such as skincare for oily skin or skincare for acne and some other options.
According to Influence Marketing Hub, the fashion industry is on top of the list for niche and takes a quarter of all affiliate programs, which also means stronger competition. However, the most profitable niches are health and wellness.
You may also want to consider other great niches, such as travel, music, beauty, gaming, tech, sports, movies, pet care, and other options.
#2. Choose a platform
Affiliate marketing works on almost any platform across cyberspace, as long as it has an audience. It's recommended to use a single platform to perform your affiliate link. Decide your platforms carefully because that's where you will gather an audience and make profits.
If you love writing, you can develop a blog and create content to fill it. When you have your content ready, make sure to optimize it for search engines. Other options are to create a YouTube channel or Instagram account.
One last important thing is to always be transparent that you receive income from the link you provide. You have to mention that you include affiliate links in your post as required by The Federal Trade Commission (FTC).
#3. Choose an affiliate network and program
There are several well-known affiliate networks and programs that you can sign up for, such as AWIN, ShareASale, CJ Affiliate, and Amazon Associates.
As a beginner, it's understandable if you're confused about which program to choose. Let's make it clearer by defining your goal:
High volume, low commissions:
Amazon affiliates are included in this type of affiliate marketing. You have to generate $100k in revenue for amazon to get a 5% commission equal to $5k. Typically, you need high traffic which comes from many contents and audiences.
Low volume, high commissions:
This usually refers to luxurious and expensive products, including branded brands or expensive camera equipment. Even with lesser conversions, you still can get high commissions.
High volume, high commissions:
This type of affiliate program may be a bit hard to be carried by beginners. It includes financial affiliate programs and SaaS affiliate programs. Even though this program offers tempting profit, beware of the strong competition.
#4. Create valuable content and earn income
Now, it's your job to create valuable content for your audience. You can create YouTube videos, Instagram posts, blog posts, or any other form of content to gather audiences.
There are a few options for you to promote products. You can simply mention the product that you choose to affiliate on your posts. Or, go bolder by giving in-depth information about the product to build audiences' trust.
Make sure to fulfil the Federal Trade Commission's (FTC) requirements as mentioned in the previous point.
Conclusion
As the life expenses get pricier over time, having single source earnings may not be enough to cover your needs. The condition will stay the same without extra work and effort. You can always take your time to start paving your way as an affiliate marketer to add more income.
The process of becoming a successful one may seem overwhelming at a glance, especially for people who have just stepped into the field.
However, remember the promising feedback you'll get once you get the hang of it. The information above hopefully gives you the information you need about affiliate marketing and what to anticipate in 2022.
How Can Metricks Help You
Godsfavour is a passionate content strategist with an excellent flair for writing on various niches. With a bachelor's degree in Accounting. Her natural knack for details, coupled with her love for the English language, helps her weave and spin words together to create a masterpiece. She's passionate about business growth and development.