Picking an eCommerce platform for your online business isn't easy. With an overwhelming number of platforms to choose from, merchants must compare structure, functionality, price, flexibility, and more. Some merchants have development and coding skills they can leverage. Whereas, others want an out-of-the-box platform with minimal set-up.
While there are numerous methods for comparing platforms, this guide focuses on two distinct software systems – eCommerce vs SaaS (Software as a Service).
These two prominent system types divide eCommerce software into two camps and govern how you interact with and finance your platform.
Let's take a closer look at how these platforms vary and which one might be a better fit for your business.
What is an eCommerce Platform?
eCommerce is an abbreviation for "electronic commerce" just like the short form of email is "electronic mail". An eCommerce platform includes performing everything pertaining to commercial transactions online. It majorly entails buying and selling items or exchanging services.
Thus, it includes everything digital, from ebooks to game consoles, and more.
In short, eCommerce enables online purchase and payment for anything that is carried out face-to-face. And it is made possible by the use of eCommerce software that imitates a physical store.
With eCommerce, visitors can add items to an online shopping cart. Also, they can make payments when they are ready. To complete the transaction, the customer will input payment and delivery information at the checkout.
E-commerce transactions are processed by payment gateways that integrate with eCommerce software. It allows customers to pay in many ways, using credit cards, eCheck, PayPal, and other digital wallets.
Automated tools are included with some eCommerce apps to assist the business owner in managing and marketing their online store.
A highly-profiled eCommerce software allows you to quickly add custom features and functions, as well as execute activities such as:
Features for advanced search
Personalization of products
Custom bundles
Integration of software
POS systems for omnichannel selling
What is a SaaS Platform?
On the flip side, we have SaaS. Software as a service (SaaS) is a process of providing applications as a service over the Internet. Rather than installing and maintaining software, you use the Internet to access it, eliminating the need for complicated software/hardware management.
Web-based software, on-demand software, and hosted software are used to describe SaaS applications. SaaS applications, whatever their name, are hosted on the servers of a SaaS provider. The service provider is in charge of the application's safety, accessibility, and effectiveness.
However, most SaaS-based eCommerce solutions offer a low-cost entry point for retailers. If you find it challenging to set up and run your comprehensive eCommerce store, you could use a SaaS platform.
When you select this option over a fully customizable eCommerce platform, there will be no room for technical headaches. Thus, you'll focus on the most critical aspects of your business – the ones that generate the most revenue.
A software-as-a-service (SaaS)-based eCommerce software takes care of:
Severs procurement
Hosting
Choosing a data centre
Upgrades to Networking Software
Privacy
Software installation
Read this article to learn how to promote your SaaS startup.
Differences Between an E-commerce Platform and Saas Solution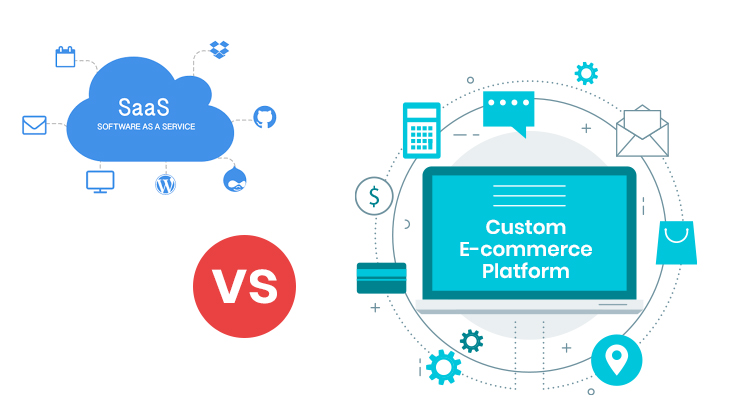 | eCommerce | SaaS |
| --- | --- |
| Mostly B2C and C2C | Mostly B2B |
| Ideal for large-scale businesses and applications requiring a lot of flexibility. | This is the best option for small-scale projects. SaaS software is a great and preferred choice for eCommerce websites with below 2000 goods. |
| Increased initial and ongoing costs | Reduced implementation cost |
| There are fewer templates available than on the SaaS platform. You must develop your site from scratch, which takes time. | The SaaS platform is simple, easy to use, and takes little time to establish. |
| You may further add as many items as you want with ease and flexibility without compromising quality. | Excessive product increases can result in bulkiness and connectivity issues. |
| It will take at least three months to get the software up and running. | Setup takes not more than one day, and you're ready to go! |
| Includes dependable servers and data centres capable of handling a wide range of workloads. | It uses shared servers that can't handle a lot of traffic. |
| Woocommerce, Magento, Open Cart, and Flipkart | Volusion, Big Commerce, DemandWare, and Shopify |
| Requires shipping and logistics | No physical goods |
eCommerce vs SaaS: As you can see the differences between both platforms, picking the best one depends on your tastes, objectives, and business needs. Whatever platform you choose to create your e-commerce website, you must choose the perfect affiliate marketing tracking software.
How Can Metricks Help You
Henry is a marketing and communications specialist. He enjoys helping individuals and brands find answers to their marketing questions. He has spent the majority of his career in the SaaS industry, gaining experiences in areas such as corporate communications, digital marketing, branding, and community building.
Henry currently serves as the head of product marketing and comms at Metricks.